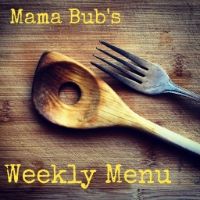 My grocery shopping abilities are less than stellar but my meal planning is far worse.  Somedays, the clock will quickly be inching toward 5:00pm and I won't have a clue as to what I'm putting on the table that night.  Maybe chicken or one of those individually flash frozen steaks I bought from a door-to-door meat salesman.  You know, because one of his regular orders cancelled and he had extra and was going to give me a great deal.  I regretted that decision as soon as I closed my front door.  Anyway, I cook dinner at least a couple times a week but the nights when we have soccer or gymnastics – well, I'm usually forced to call for pizza or we eat cereal.  Yes, I know…I'm a terrible homemaker.
I've been stalking my friend Mama Bub and her weekly menu plans.  The other night, I learned that she makes dinner every night of the week and that they only go out as a family a couple times a month.  Wait..what?  We eat dinner out at least three times a week (two of those are Saturday and Sunday nights).  The truth is, I'm not a very good cook.  I get by with a couple of go-to recipes but this family cannot survive on spaghetti alone!
So, Sunday before heading out to the grocery store – we needed cereal after Saturday night's dinner in – I sat down at the computer to check out Mama Bub's menus.  I also dug into my Pinterest boards too.  I knew all those recipes I've pinned would eventually come in handy.  Here's what I came up with:
Monday: Thai Peanut Chicken
This was on Mama Bub's menu during the week of February, 11th.  She found it at Mmm…Cafe originally.  It's a crockpot dinner which works for us on Monday nights because we're out on the soccer field in the early evening.  I'm a little afraid of this recipe because it's something we wouldn't normally eat.
Tuesday: Grilled Fish Tacos with Pineapple Salsa
We're trying to eat more fish but I ruin it every time I grill it.  I'm thinking I'll just cover it up with some homemade Pineapple Salsa.  Worst case scenario: I have tortilla chips.
Wednesday: Stuffed Sweet Potatoes
I love sweet potatoes and hope that I'll love this savory recipe just as much as ones smothered in butter and sugar.
Thursday: Hawaiian Style Short Ribs
A friend of mine pins some of the best stuff including this one that has 29 crockpot meals that do not include a creamy fattening base. I thought I had short ribs in the freezer – from the meat salesman – but I don't, so it's back to the grocery store.  These will be a homerun in our house.
Friday: Sweet & Sticky Baked Chicken
The original recipe calls for chicken drumsticks and I just don't do drumsticks. So, I'm swapping sticks for breasts. I think this one is all about the sauce anyway.
A couple of other new things I'm trying this week are Banana Oatmeal Cupcakes for breakfast on the go.  I'm also drinking my weight in Shakeology shakes too.  I just started a Shakeology board on Pinterest and hoping to find some recipes to mix things up a bit!
So, what sounds good to you?