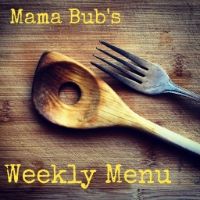 I am officially jumping on the meal planning train — Thanks to Megan from Mama Bub for giving me the push I needed!  I definitely recommend you check out her blog for some ideas on what to make for your family.  We tried four new recipes and though they weren't all a hit, they were on the table.
A couple of notes worth mentioning:  The Thai Peanut Chicken was probably our least favorite.  I followed the recipe exactly using mild salsa because we're not  that adventurous but in the end it was pretty bland.  The Stuffed Sweet Potatoes were incredible.  The fish tacos were more like fish burritos but they were awesome too.  I used the frozen cod from Whole Foods and it held up perfectly on the grill – even with my horrible BBQ skills!  The homemade pineapple salsa turned out looking like ground turkey.  I must figure out how to use my food processor!  The Hawaiian Beef Short Ribs were great too but I ended up spending $30 on meat at Whole Foods – I totally over-estimated how much I would need for our little family of three.
Now for this week!
Monday nights are usually made for the crock pot because we're on the soccer field until 5:30 pm.  I like this one from Skinny Taste: Crock Pot Santa Fe Chicken.  We ate a lot of white rice last week so I'm going to sub out brown rice for this recipe.
Tuesday is my birthday and that means we're either going out or ordering in.  Got any suggestions?
Wednesday: Sweet and Sour Chicken that my friend Jen recommended.  I made this a few weeks ago and had problems with the dredging part of it.  She suggested I totally skip that part and just make the sauce and pour it over grilled chicken.  I'll add some veggies and call it a night.
The fam is on their own this Thursday night because I've got plans at the nail salon and dinner afterwards with a group of girlfriends.  I can't wait!
Friday nights are tough in our house because while I'd love to go out after a long week, my husband usually gets home late, so we stay in.  Last week, I totally blew off dinner plans for a Shakeology and ended up making a quesadilla for my girl.  This week, I'm planning to make the Sweet & Sticky Baked Chicken recipe again.
With all this meal planning for dinner, I've realized that my breakfast and lunch plans are seriously lacking.  I think I better start perusing Pinterest for some ideas!